Attorney Marino received her Bachelor's of Arts degree in 1992 from Boston University, and her Juris Doctor degree from the Quinnipiac University School of Law in 1995.
Upon graduation from law school, Attorney Marino clerked for the Honorable William B. Lewis in Stamford, Connecticut. Thereafter, she joined a Westport law firm and began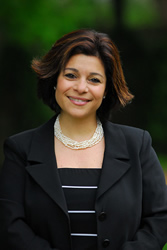 concentrating on family law litigation, including but not limited to divorce, separation, alimony, child support and custody modifications, termination of parental rights matters, restraining order, third party visitation, premarital agreements and relocation cases. In 1997, Attorney Marino left Westport and became a partner in a New Haven county firm where she practiced solely in family law litigation, which she has been doing for the past decade. Attorney Marino relocated her office to Milford in 2004. In 2000, Attorney Marino successfully represented the plaintiff grandmother and plaintiff aunt in the law changing third party visitation case, Roth v. Weston.
Attorney Marino is admitted to practice in Connecticut, New York and the United States District Court for the District of Connecticut. She is a member of the New York State, Connecticut, American, Milford and New Haven County Bar Associations. She is a former member of the Board of Directors for the Milford Rape Crisis Center. She was elected in 2010 to the Orange Board of Education.
In 2004, Attorney Marino was named one of New Haven's best divorce lawyers, by Connecticut Business News Journal. She is married and has two children.